HWg-SH4
The SH4 is an ultimate access system that works with any electromagnetic lock and any RFID reader. It will work in your datacenter as well as in your office or even your home. Whether you have one door or several hundred racks, the SH4 system provides a cost effective way to manage access to your technology.
Easy to install. Powerfull to use.
Just plug the SH4 unit into your Ethernet network, connect locks and RFID readers
and use your browser to set it up. Need to control access of many users on various locations? We
have a management software that will make it easy.
Any lock. Any RFID reader

We will setup the SH4 to work with locks

and RFID readers that you want to use. There is no need to be limited. Just let us know.

Free management software

The SH4 system comes with free SW to help you manage everything from one place - users, doors, groups, locations, the whole lot.

One lock. Or a few hundred

The SH4 is a system of devices ranging from a unit supporting 2 RFID readers to a simple door unlocker. Pay just for what you need and the system will grow with your requirements.
Access control anywhere
Though it's designed with IT need in mind, the SH4 system is not limited to datacenters. Whether you need to control access to an office house, remote telecom cabinets or a residential area, the SH4 provides a simple and secure access control for any application.
Using the SH4
Each SH4 device can connect up to 2 electromagnetic locks and 2 RFID readers of your choice.
There are many locks and RFID readers on the market. The SH4 already supports the most common models and others can be added upon request.
The SH4 features a relay output that can be programmed to mark a door open in a rack row or to trigger an alarm in case of a breach.
In
offline mode
the SH4 can work as a standalone device that holds an internal database of cards and users.
You just need the Ethernet port to setup the unit and the device will follow the access rules without the need for LAN connection.
In
online mode
the device is connected with a server running the HWg-DCD software. This server manages all the access rules.
The relevant part of the entire user database is loaded in each SH4 so that you can still access your technology even if your network connectivity fails.
Main access

system control unit

Simple unlocker

for 2 locks

Simple unlocker

for 1 lock
Expanding the SH4 system
| | | |
| --- | --- | --- |
| Wherever you do not need an RFID reader, you can expand your system with the SH4e and SH4s units. | Controlled from a supervising SH4 unit and its RFID keypad, the SH4e and SH4s units are simple unlockers for 1 or 2 electromagnetic locks. | You can grow your access system as needed and keep the implementations costs low. |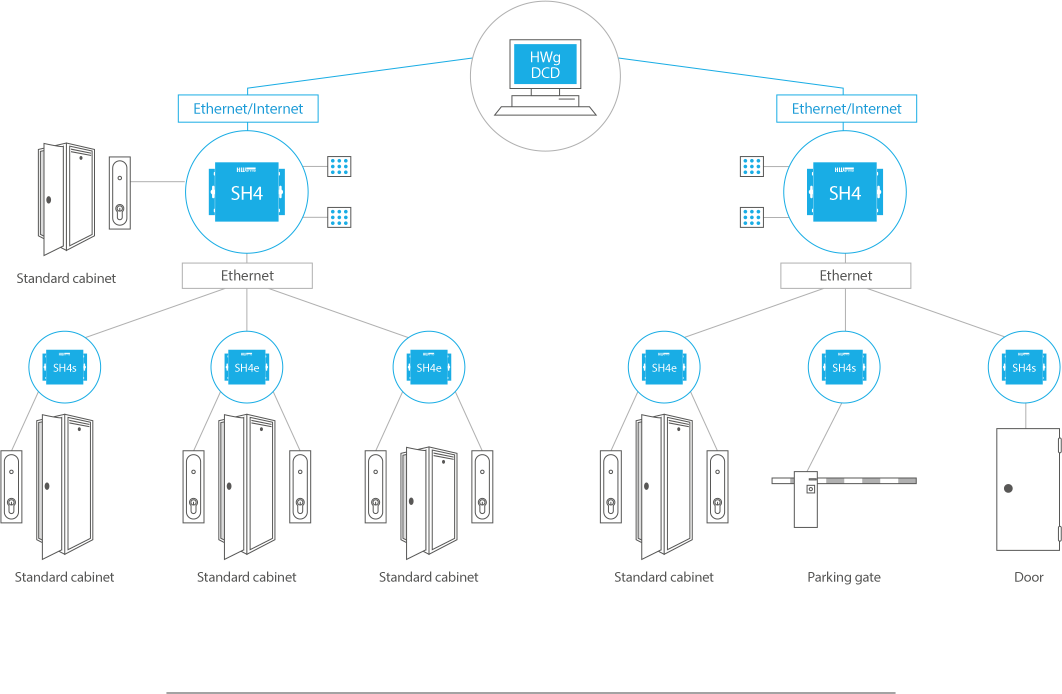 Made with care

The SH4 units are manufactured by HW-group in the Czech Republic in compliance with the strict quality rules of the European Union. All devices are CE certified and quality tested.

By professionals

HW-group is making professional monitoring devices for over 10 years. Our products

are guarding important systems

and infractructures all over the world.

From your local dealer

HW-group has a worldwide network of distributors ready to help you with your project. All our partners are trained to provide you with the best possible local support.
With experience
We have helped the following companies with their monitoring or access solutions. We would be thrilled if you were the next.
DON'T HAVE A DATACENTRE?
Why not try the
SH4 Home version?